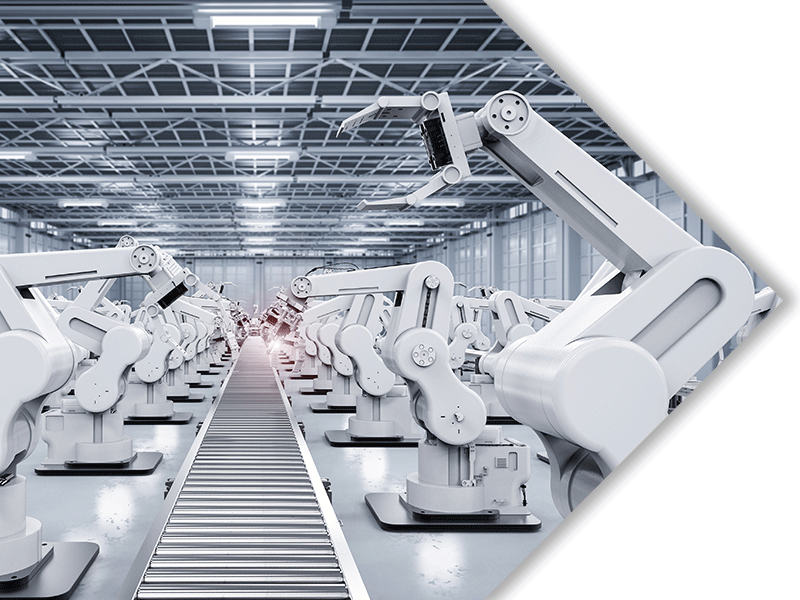 We offer a complete service for industrial robotics automation.
Software development
Planning support for complete installations
Process engineering (welding, bonding, screwing, laser machining, etc.)
Design optimisation, including your own designs
3D process simulation of individual robot cells or complete lines – offline programming
Online programming and commissioning
Cycle time / process optimisation (offline / online)
Error analysis and troubleshooting
Producing documentation for robots and installations
We are your partner for the planning, programming and commissioning of industrial robots.
We plan installations for OEMs, such as Volkswagen, BMW, Daimler and many more, helping to keep the world in motion.
Simulation
The 3D-process simulation for robot application and Ergonomic design are the focus of our company.
By optimizing of production processes, we consider geometric and physical characteristics of element, component and production equipment.
In the application area the complex robot simulation process can be simulated. The design and arrangement of tools, equipment and components, as well as the integration of industrial robots in the environment of the manufacturing cell, can be optimized interactively in the 3D model.
With the assistance of simulation softwares such as ROBCAD, Process Simulate and Delmia, Robot programs are generated, tested and transferred to the production control.
OFFLINE-PROGRAMMING – A PART OF PROCESS PLANNING
Offline-Programming allows simultaneous planning of a product and the production process.
Seamless integration and use of international standard interfaces between CAD and CAPE afford realistic and functional construction of complete sections and production systems.
Before investing in manufacturing facilities, an analysis and optimization on the basis of virtual 3D cells is possible.
Typical applications are: 3D-Graphic simulations, modeling of kinematics, motion planning, collision recognition, dynamic analysis, determining cycle time, On/Off-Communication or process-based procedures for large numbers of processes such welding, riveting, gluing, cutting, assembling, drilling, measuring, folding etc.
We have specialized us on the field in the worlds most trusted CAPE Software ROBCAD.
Thereby, we manage a 3D-visualization of Robots, production facilities and work activities.
With simulation of production cell test, we verify and optimize the allocation of space and process paths of robots and manual tasks.
ONLINE-PROGRAMMING – FROM NOW ON THE ROBOT IS REQUIRED
As Online-Programming is mainly declared the commissioning and programming on the actual control of industrial robot, which is usually installed by the customer or system builder.
Commissioning means the basic setting of the robot controller, for example importing of system tools, tool measurement, communication test with sub- and superordinated controllers.
Afterwards the actual exercise program for the robot is developed, if it hasn´t already been created by the OFFLINE programming.
The programming of the input and output signals in the programs is the last step before a final program optimization.
COMMISSIONING
We help you to optimize your robot process in reference to geometry and working sequence.
We provide you in the case of designing robot applications, where different processes should be performed by a robot, such as assembling, gluing, welding or riveting.
We support you in the process of robot simulation, offline programming and commissioning of your constructions.
KUKA
FANUC
ABB
UR (Universal Robots)